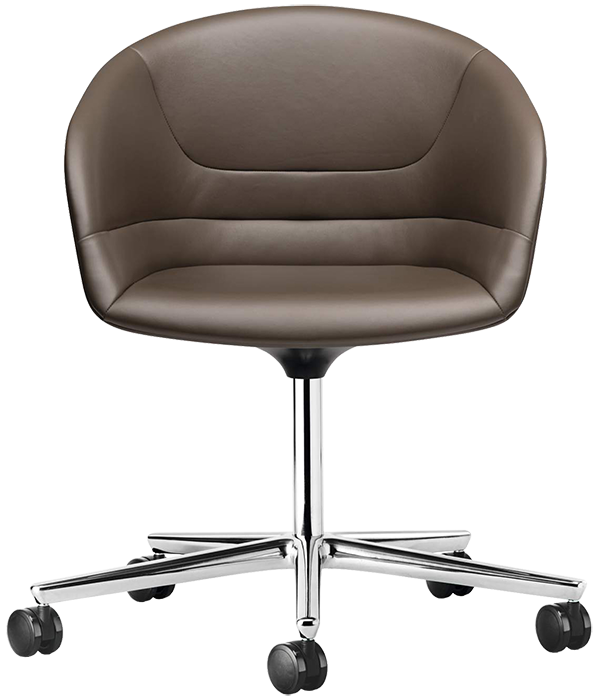 Design PEARSONLLOYD
Wraparound seats are the ultimate in good taste and are true cult objects.
With elegant lines and soft curves, Kyo wraps you in safety.
Striking stitching structures the upholstery: as wide and elegant as the seats of a sports car. Its shell - externally, like the original, made of plastic or completely upholstered in leather - guarantees exceptional seating comfort. With a slight swivel action on the four-spoke base or the tubular steel base, Kyo offers new perspectives no matter how you look at it.
Awards:
Red Dot Award: Product Design 2013
Luke Pearson and Tom Lloyd founded their award-winning design studio in 1997 after meeting at the Royal College of Art in London. Having studied product and furniture design, the studio was formed with the ambition to deliver objects of beauty, economy and intelligence.
The work of PearsonLloyd is characterised by a strong and recognisable aesthetic fused with insight and observation, which deliver unassumingly simple and elegant solutions. Working internationally, the studio has established itself across a wide range of client types and sectors, including aviation, workplace and urban design. The partners' quest for exposure to new cultures, technologies and problems has led them to design a very broad range of products gaining both commercial and critical acclaim. Keen educationalists, both partners lecture regularly and teach. In 2007 Tom and Luke's work was recognised when they became Royal Designers for Industry, the highest honour for design in the UK.

Product sheet

Awards
Red Dot Award: Product Design 2013
Cad / Bim